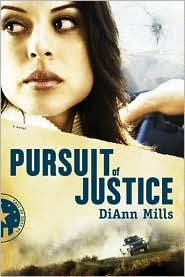 Like everyone else I am sure, I check the cover and resume before I decide to read a book. In this instance I must admit I was intrigued by both as I had not heard of the author but the resume started with the following: "For centuries, the legend of the Spider Rock treasure has lured people to West Texas with promises of unimaginable wealth. And it just claimed three more victims."
Pursuit of Justice
promised to be a thriller, filled with all sorts of twists with faith and romance to boot. I was hooked!
Special Agent Bella Jordan is called to investigate the murders on High Butte ranch near Ballinger, Texas. Carr Sullivan the rancher, is in fact a suspect because he threatened the men who wanted to dig on his land. Carr wants to run a ranch for troubled teens and murders could ruin his plans.


According to the legend of Spider Rock Spanish gold is believed to be buried there and someone in Bella's past she has tried very hard to forget might just resurface.


This is a story about treasure, the men who are obsessed with a legend that will make them rich. It is also the story of a young woman who finds the strength to face her past with a father who actually sold her to his partner, a man on the FBI Wanted list, and ultimately will discover love and faith.


Pursuit of Justice
is the kind of suspense novel you just want to pass on to family and friends.
This is also a story about love and faith the whole family will enjoy reading!
This Christian novel has many twists and characters you just cannot quite figure out. Deception, redemption, suspense, inspiration and excitement in a fast paced action packed novel yet also a story of faith that will climax and leave you breathless.
This is my first
DiAnn Mills
novel and it definitively will not be my last!
I give it a resounding 5 stars!
Disclosure of Material Connection: I received this book free from Tyndale Publishers as part of their Blogger Review program. I was not required to write a positive review. The opinions I have expressed are my own. I am disclosing this in accordance with the Federal Trade Commission's 16 CFR, Part 255: "Guides Concerning the Use of Endorsements and Testimonials in Advertising."