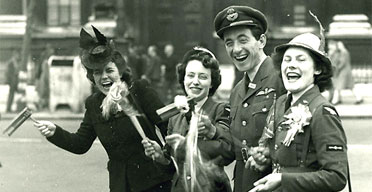 (Photo source HERE)
(Photo source Google)
(Photo source Google)
What did it feel when VE Day 8 May 1945 finally arrived?
... it was like no other day that anyone can remember. It had a flavor of its own, an extemporaneousness which gave it something of the quality of a vast, happy village fete as people wandered about, sat, sang, and slept against a slimmer background of trees, grass, flowers, and water...Apparently the desire to assist in London's celebration combusted spontaneously in the bosom of every member of every family, from the smallest babies, with their hair done up in red-white-and-blue ribbons, to beaming elderly couples who, utterly without self-consciousness, strolled up and down the streets arm in arm in red-white-and-blue paper hats. Even the dogs wore immense tricolored bows...The bells had begun to peal and, after the night's storm, London was having that perfect, hot, English summer's day which, one sometimes feels, is to be found only in the imaginations of the lyric poets...
(Source HERE)
1939 - 1945
Let's never forget the sacrifices it took!