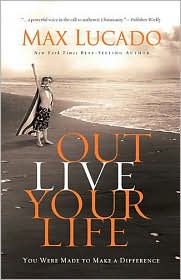 Max Lucado

is an excellent writer and his latest book
Outlive Your Life
is no exception! What sets this book apart is of course the subject: the first twelve chapters of the Book of Acts.
Each chapter starts with a verse from Acts doing what

Lucado

does best, telling a story about you perhaps or me to include many examples of life changing messages and finishing each chapter with bible verses thought provoking yet so inspiring.
In typical

Lucado

fashion he challenges us to get out of our comfort zone, to help those who are hurting, to look for those in need and to truly give of ourselves just as Jesus did.
His message is one of hope whilst teaching us that Love, Compassion and Character are the essentials Jesus himself taught us through the example of his own life.
Lucado

shows us indeed that even with a limited income we can and should make a greater impact on the lives of others from the making of the tiniest of doll sizes clothing for premature babies to the stitching together of disposable pads for cancer patients.
Easy to read, hard to put down,
Outlive your Life
by

Max Lucado

has the potential to change many lives and I definitively give it 5 stars.
I received a free copy of Max Lucado's book from the Publisher as part of their Blogger program and I was not asked to give it a positive review.