I have often been called a dreamer but I believe I have two feet on the ground hence the title of this blog, LIVE AND Dream a little dream! For those of you who are curious, it came about because I love the 'Dream a little dream' song but unfortunately there were already a few blogs with such a title and after all I am just as pragmatic as the next person so it came to be LIVE and...!
I also shy away from most social gatherings, preferring instead the company of ex-RAF flyboy, Mac the Corgi and Maira the cat. Keeping in touch however through blogging is the best thing after chocolate in my opinion!
Two paragraphs to let readers know that I usually stir away from anything controversial only because there are many other tender souls in cyberspace.
That said, I NEVER shy away from learning the pros and cons of worthy causes!!
Join me then to learn a little more about Maija Rhee Devine's endeavours.
Author Maija Rhee Devine is presently in Seoul, Korea to present on 22nd of February 2014 her latest novel THE VOICES OF HEAVEN.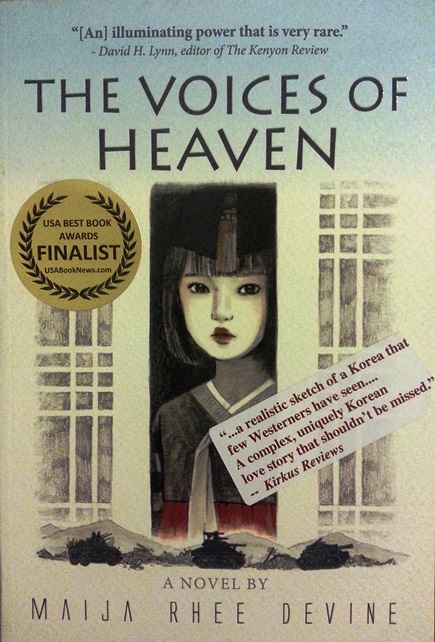 Note to readers: I hope you will have the opportunity to check this unique Asian literary offering as I also plan to review her next one (if she will have me).
Maija Rhee Devine has also been invited to a reading in Lake Como, Italy, 21 through 28 June 2014.
The Finishing Line Press which published her poetry,
Long Walks on Short Days (to be reviewed here at a later date), has organized an international conference to be held there with 10 Pulitzer-prize-winning authors giving workshops!
Maija signed up for fiction writing with Jane Smiley (Pulitzer) and poetry with Susan Wheeler ( National Book Award) and stated: "
It will be such an honor to be surrounded by such literary luminaries."
(The following quotes are reprinted with permission by the author)
An introduction to

Maija Rhee Devine

's event on 20 February 2014 in Seoul, KOREA for:
"A Birthday Event for Unlived Lives"
"(While) in Seoul, I'm thinking of holding an event open to the public designed to call attention to the fact that the son preference portrayed in my novel led to three decades of aborting female fetuses, with 30,000 aborted in 1994 alone.
(This event) will be held at Brian and Sujin's Language School with one reporter already saying she would attend. (Below) is a birthday cake I got in remembrance of the 30,000 who would have had their 20th birthday this year and this young woman said she choked up. Even though she knew intellectually about the abortions but she never developed an emotional experience about those who lost their lives solely on the basis of gender.
So far, they had been just a number to her. She thinks such images will wake up Koreans, who have been in a minimizing or denial mode, thinking the estimated 450,000 abortions, from late 1970's through 2013, were phenomena of the past and the young generation is not a part of it, as though the young generation has landed from another planet without history or baggage from the past.
The abortion rate declined by 58% in 2013 from the level of 1994.
Basing on the total birth number of 2012, the fall in 2013 by 58% from the no. of female fetuses aborted in 1994 translates to 9,000 terminated in 2013.
A few days ago, I got a cake and candles for "2" and "0" and lit them in remembrance of the 30,000 female fetuses aborted in 1994."
"Studies also show the Year of the Horse has been exceptionally tough on female fetuses as the personality traits associated with the horse sign didn't make good wives.
1990, one of the three horse years (1978, 1990, 2002) shows a sharp rise in female fetus terminations (causing the highest sex ratio at birth of 117.8 boys to 100 girls).
Now, this year is again the Horse year.
How many additional female fetuses would not see the world not only because they lack the Y chromosome but also because of the animal sign?"
"I'd like to challenge the young people of today to own up to this as their problem and their culturally subconsciously inherited male values contributing to the slow process of achieving a complete elimination of gender-based pregnancy terminations. If nothing else, I'd like to challenge them to at least remember and honor those lost lives on an annual or other regular basis, and not relegate them to mere numbers.
This will be a low-key and quiet event, resembling a reception with food and beverages, with about 30- to 45-minute program of poetry and prose readings (5 minutes per presenter and not more than 7 or 8 presenters), a song composed for the occasion, and sharing of the cake. It's not a religious and/or right wing type of a propaganda-driven event."
The following quotes are about the topics of Maija Rhee Devine's next event, 22 February 2014, also in Seoul, KOREA:
"(Presenting)
The Voices of Heaven
and what it tells about today's Korean society.
Two script options:
a) Korean War, personal experience, its lasting impact on Korea, esp. on women and children. Women became liberated from domestic life and joined the labor force.
After the war, the push to replenish to number of males killed in the war combined with traditional male preference and the introduction of sex detection technology in late 1970s, the sex ratio at birth rose dramatically in favor of males.
2) The son preference portrayed in The Voices of Heaven and how it continues to this day."
Maija Rhee Devine will be touring the US speaking for those voices who have been silenced forever.
Note: She will be in Seattle, Washington in April 2014 for those of you who will be able to attend (more info at a later date).