Publisher:

WestBowPress (September 27, 2013)
ISBN-13:

978-1449791292

Paperback:

192 pages
SYNOPSIS:
What does the Bible really teach about food? Were Adam, Eve, and the animals originally created as vegetarians? Why did Noah take extra pairs of certain animal species into the Ark? Which animals did God permit Moses to eat? Did Jesus actually declare all meats fit to eat? What kind of animals did Peter see in his vision? Would Paul really encourage us to eat anything ?
For generations, religious institutions have served people a steady diet of dispensational theology, in which new covenants and teachings are portrayed as healthy substitutes for Moses' eating instructions. Commandments of Moses are usually dismissed as outdated, irrelevant, and oppressive. But are these views valid, just because they are popular or traditional? How did first century Christians eat? What did Jesus, Paul, and the apostles teach about food and about Moses' law? How do biblical diets help people live longer?
EAT LIKE JESUS answers all of these questions and more by comparing infallible Bible texts to mistranslations and status-quo religious dogma. Offering a simple, scientific, and comprehensive Bible-based dining theology, EAT LIKE JESUS probes into - and beyond - New Testament accounts, explaining how and why God has been qualifying food for all humanity since the Garden of Eden.
Here are my thoughts:
Before anything else Folks I would like to invite you to visit Andrew L. HOY's website 'THE CLEAN EAT GREEN' as first suggested by the author. It makes absolutely good sense to check out what this book is offering before reading further!
Beginning with questions such as 'How do biblical diets help people live longer?', 'Were Adam and Eve created as Vegans?' or 'Why did Noah take extra animals on his Ark?' you will get an idea of the author's fresh approach at all essential bibles verses regarding Christians eating habits.
In 5 well documented chapters, the author addresses such subjects as Traditions, Gentile Dining Acts, the Genesis of Food and so on.
Eat Like Jesus is like no book I have read before in that regard and anyone from seasoned scholar to new believer will take something away from it!
The author offers readers much 'food for thought' bringing a whole new dimension to our feeding habits as he introduces readers to his interpretation of where and why Christians have strayed from the original teachings of Christ, starting with inadequate translations of related biblical texts.
Discerningly
using the teachings of disciples Peter, Paul, Mark and others Andrew L. Hoy explains his understanding of returning to Kosher Christianity, from changing where and how we consume food to with whom.
Demonstrating a well noted understanding of Hebrew and Greek translations he shares what he believes to be the diet Jesus and His disciples observed whilst pointing out the translations discrepancies of Paul's letters to the Corinthians and Romans, both in the K.J. version and the N.I. version.
I found it interesting that "the K.J. version
was written four centuries ago when the English term 'meat' generically referred to 'food' not exclusively to food derived from animal flesh, as it does today.", something I remembered learning years ago and promptly forgot!K.J.
Andrew L. Hoy tells readers
:
"While I am no Philip Yancey, Rick Warren, or Max Lucado, I can nevertheless assure you
that my book has great potential to improve your understanding of the Bible, to challenge your faith, and to strengthen your relationship with God - all while improving your health and the health of those that you love and feed!"
As outlined in his book, Andrew L. Hoy's comments matches remarkably the health experts warnings about our daily food consumption and as such well worth checking out!
After all, WWJD?
5 Stars!!
Note: First Edition - Chapter two has since been revised due to a timeline error.
About the Author:
From Amazon:
Andrew L. Hoy worked as a professional engineer for over 15 years. Searching for greater meaning, he embarked on African missionary work, where he began questioning traditional church doctrines. Only after moving to Israel to study the Scriptures did he find answers, along with a passion for discipleship and an authentic understanding of the Great Commission.
Visit his website for additional information (HERE)
ABOUT THE AUTHOR'S GIVEAWAY:
Andrew L. HOY
has kindly offered one reader the opportunity to receive the following package: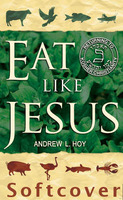 Interested? Just place a comment on this post telling me you would love to learn more about
E
at like Jesus
and your name will be added in the hat!
You have until Midnight on February 15, 2014. Drawing will be done by an independent hand on the 16th!
Winner's name will be posted on the blog and contacted via email with confirmation (be sure to include an email address in a safe format Folks!)
GIVEAWAY OPEN INTERNATIONALLY!!
I received a copy of this book courtesy of the author as part of his book promotion.
I am disclosing this in accordance with the FTC 16 CFR, Part 255 'Guides concerning the use of endorsements and testimonials in advertising. I was not asked to write a positive review and all opinions expressed are entirely my own.