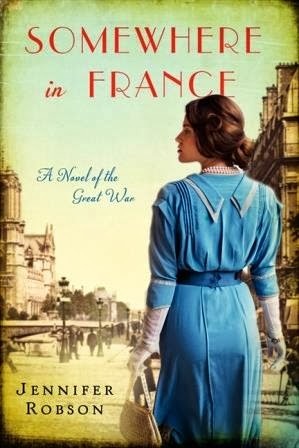 Paperback:

400 pages

Publisher:

William Morrow Paperbacks (December 31, 2013)

ISBN-13:

978-0062273451
Also available in KINDLE format
SYNOPSIS:
A daring young woman will risk her life to find her destiny in this atmospheric, beautifully drawn historical debut novel—a tale of love, hope, and danger set during the First World War.
Lady Elizabeth Neville-Ashford wants to travel the world, pursue a career, and marry for love. But in 1914, the stifling restrictions of aristocratic British society and her mother's rigid expectations forbid Lilly from following her heart. When war breaks out, the spirited young woman seizes her chance for independence. Defying her parents, she moves to London and eventually becomes an ambulance driver in the newly formed Women's Army Auxiliary Corps—an exciting and treacherous job that takes her close to the Western Front.
Assigned to a field hospital in France, Lilly is reunited with Robert Fraser, her dear brother Edward's best friend. The handsome Scottish surgeon has always encouraged Lilly's dreams. She doesn't care that Robbie grew up in poverty—she yearns for their friendly affection to become something more. Lily is the most beautiful—and forbidden—woman Robbie has ever known. Fearful for her life, he's determined to keep her safe, even if it means breaking her heart.
In a world divided by class, filled with uncertainty and death, can their hope for love survive. . . or will it become another casualty of this tragic war?
The paperback includes a P.S. section with additional insights from the author, background material, suggestions for further reading, and more.
My thoughts:
Based on the tremendous contributions women of all ages and backgrounds made as volunteers during the first World War, Somewhere in France was an appropriate read during this particular phase of the Centenary.
Jennifer Robson does an excellent job of painting life as it was prior to the conflict and showed how social upheavals happen almost over night as entire nations faced those changes.
There is always something enticing in discovering the ups and downs of manor life of course and the privileges and obligations such a life demanded. Lilly was every bit the high society young English lady but reality hits all classes without distinction. She chose to contribute to the war effort by volunteering for overseas duties. She is not altogether altruistic however and has a very definite reason for requesting a post on French soil and thus begins a love story stretching the length of a savage war. The young English girl never forgot the Scot surgeon she met a lifetime ago and treasured his letters from the front.
Lilly and Robbie are good solid, well defined characters certain to please any female reader. The author does not shy from sketching a grim background for such a romance and I found myself turning page after page wishing to know how far she would take our two protagonists.
Indeed I found no fault but for a propensity in elaborating on one particular sexual encounter. Frankly, it put me off. I am no prude but find such details a little too private and a more delicate suggestion of the act far better.
I enjoyed otherwise the novel but will add a caution: Due to thematic contents including a sexual explicit scene and a couple of strong words, consider this book to be adult material only.
Reducing my rating to 4 stars due to the above!
Note: Be sure to check insights, interviews and more included in the book!
Meet the Author:
Jennifer Robson first learned about the Great War from her father, acclaimed historian Stuart Robson, and later served as an official guide at the Canadian National War Memorial at Vimy Ridge, France. A former copy editor, she holds a doctorate in British economic and social history from the University of Oxford.
Visit her website
(HERE)
Note: This was a library loan and all opinions are mine only!