Studio:

Word Entertainment

ASIN:

B00MEA938Y
SYNOPSIS:
With Billy Hamilton now out of the picture, life for Elizabeth is starting to return to normal. Still feeling guilty about being duped by Billy, Elizabeth again tries to apologize to Jack. And while Jack does his best to smooth things over, his clumsy wording only offends Elizabeth, putting Jack back in the doghouse. Elizabeth vents her frustrations to Abigail, who not only lends a caring ear, but also shares a tasty pastry.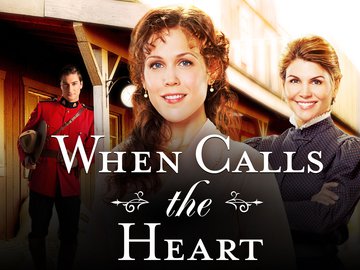 My thoughts:
This delightful series has our full attention! Hallmark's adaption of Janette Oke's Christian novels reminds us of such classics as 'Little House On The Prairie' and we have enjoyed the wholesomeness of the stories produced by Michael Landon Jr.
For those of you who have not yet the opportunity to see an episode, When Calls The Heart is the story of a 19th Century young teacher with a privileged background whose first classroom assignment is in a small coal mining town.
And if like me you have been watching every episode until now, you probably found Second Chances to be the best of all episodes with friendly Mounty Jack struggling to find a way to express his feelings for lovely Elizabeth.
Let me add that the Special Features are not to be missed if you want an in-depth idea on how
the series is produced!
When Calls The Heart

reflects the sort of family entertainment we hope to see more on the screen: it brings wonderful messages to one and all and features stunning scenery and beautifully detailed costumes.
5 Stars!
About Word Entertainment:
A leader in the music industry for over 60 years, Word Entertainment, a Warner/Curb company, is a unique, comprehensive entertainment company comprised of multi-faceted artist service departments including publishing, merchandising, booking, and online initiatives.
I received a copy of this DVD title from Edify Media Inc/Word Entertainment to review . I
am disclosing this in accordance with the FTC 16 CFR, Part 255 'Guides concerning the use of endorsements and testimonials in advertising. I was not asked to write a positive review and all opinions expressed are entirely my own.