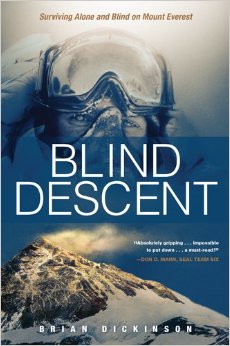 Hardcover:

272 pages

Publisher:

Tyndale House Publishers, Inc. (May 1, 2014)

ISBN-13:

978-1414391700
Also available in KINDLE format
SYNOPSIS:
Alone and blind at 29,000 feet!
Former Navy rescue swimmer Brian Dickinson was roughly 1,000 feet from the summit of Mount Everest—also known as "the death zone"—when his Sherpa became ill and had to turn back, leaving Brian with a difficult decision: should he continue to push for the summit, or head back down the mountain?
After carefully weighing the options, Brian decided to continue toward the summit—
alone
. Four hours later, Brian solo summited the highest peak in the world. But the celebration was short-lived. After taking a few pictures, Brian radioed his team to let them know he had summited safely, and got ready to begin his descent. Suddenly, his vision became blurry, his eyes started to burn, and within seconds, he was rendered almost completely blind.
All alone at 29,035 feet, low on oxygen, and stricken with snow blindness, Brian was forced to inch his way back down the mountain relying only on his Navy survival training, his gut instinct, and his faith. In
Blind Descent
, Brian recounts—in fantastic detail—his extraordinary experience on Everest, demonstrating that no matter how dire our circumstances, there is no challenge too big for God.
My thoughts:
When I spotted this title, I knew instantly ex-RAF flyboy/rock climber/

spelunker would find it fascinating!
Brian Dickinson is not your average climber and his journal reflects intense moments and a burning passion few men have experienced. That said, it is his love for God and family which comes through this amazing narrative like a beacon in the darkest of nights!
From the beginning of his extraordinary tale, Dickinson grabs readers' imagination as he relates the experiences and training which led him to that near fatal event when alone, blind and near exhaustion, he made his descent against all odds, relying on faith, gut

instinct

and Navy survival training.
Brian is a gifted speaker and as such, his solo climb allows you to be right there at the summit with him as you feel the ropes in your hands, experience the fear crossing the crevasses and finally by the grace of God, when he descends down to safety.
An amazing test of faith in tremendous circumstances as told by the first blind climber to summit Mount Everest, including

fascinating

photos!
This is one book I recommend you check out (Beg, borrow or purchase, well worth it Folks!)
5 Stars!
Note: Take a moment to appreciate Brian's Mum review (HERE), a tribute to this courageous young man's faith and character! Spot on!!
Meet the Author:
Brian Dickinson
–
author, motivational speaker, former US Navy Air Rescue Swimmer, extreme athlete, 7 summits mountaineer with solo summits of the highest points in the Northern (Everest) and Southern (Aconcagua) Hemispheres.
Living life to it's fullest!
What else could I possibly add to this? It says it all!
Visit the website for additional information including interviews and videos
(
HERE
)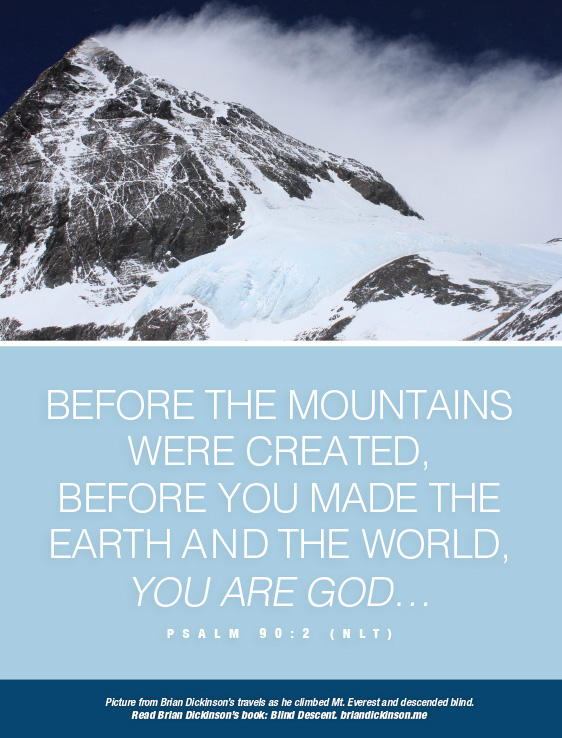 Disclaimer:
I received a copy of this book from TYNDALE
as part of the book's promotion.
I am disclosing this in accordance with the FTC 16 CFR, Part 255 'Guides concerning the use of endorsements and testimonials in advertising. I was not asked to write a positive review and all opinions expressed are entirely my own.