"Ermitage Rock in an imaginary landscape"


Books and more books. I have always liked children books for their wonderful sketches. Perhaps this is why I love ink and charcoal drawings the most.
Remembering all the wonderful books I was allowed to read (yes, there was such a thing as parental guidance then too...whoever thought this was something new?...) I thought I checked to see if there were copies available. Sadly I confess I do not remember what happened to my books!


When I was a little girl, my favourites were written by the Comtesse de Segur such as "Les malheurs de Sophie", "General Dourakine", "Les memoires d'un Ane", "Le mauvais Genie" and of course "Le petit Diable" etc...
These were good stories, full of mischief and adventures I could immerse myself into and I loved reading these. I imagine myself a character in such or such story and I loved to dream of course about what "if".


Later on as a teenager, the works of Jules Verne fascinated me. "Around the World in Eighty Days", "Twenty Thousand Leagues under the Sea"...
Anyone who read "Paris in the 20th Century" or "From the Earth to the Moon" will remember the mention of similar devices to today's air conditioning, electricity, automobiles, helicopters, submarines, movie projectors, jukeboxes, even rockets!
Oh the dreams!


Victor Hugo however appealed to me not only with "Les Miserables" (last I remember I was right there with the students on the barricades...), "The Hunchback of Notre Dame" and "Hans of Iceland" but with his wonderful drawings (he is said to have done about 4000 of them, using pen and ink wash mostly - each an adventure in itself).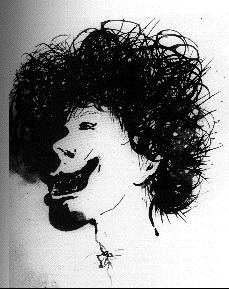 "Gavroche" from Les Miserables



This was the stuff my dreams were made of!