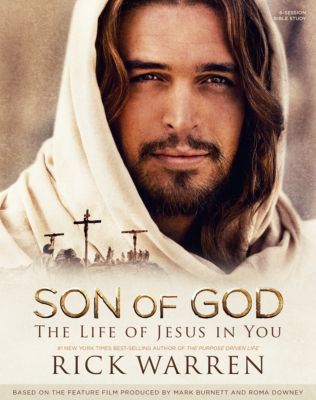 Paperback:

64 pages

Publisher:

B/H Books; Csm edition (February 15, 2014)

ISBN-13:

978-1430035282
SYNOPSIS:
What would happen if you applied the lessons from events in Jesus' life—temptation, suffering, death, resurrection—to your own? Would you come to know Him more intimately and with a greater understanding of your purpose? Would you embody more completely the mission, love, and mind of Jesus?
This DVD small group study, based on producers Mark Burnett and Roma Downey's major theatrical release,
Son of God
, features
New York Times
bestselling author Pastor Rick Warren as he explains how you can find your purpose in studying the life of Jesus.
Member Book
includes a small group experience for six sessions, applicable Scripture, and a group discussion guide. Also includes leader helps. (6 sessions)
My Thoughts:
Based in part on The Bible: The Epic Miniseries with Roma Downey, this small group study SON OF GOD: The Life of Jesus In You is a quick and easy tool for Sunday school teachers and Youth group Pastors to introduce the following subjects included in the six sessions of the book:
- Jesus' Baptism and your Baptism
- Jesus' Temptation and your Temptation
- Jesus' Suffering and Your Suffering
- Jesus' Death and Your Death
- Jesus' Resurrection and Your Resurrection
- Jesus' Ministry and Your Ministry.
*Note: The Bible study kit includes a DVD and a study guide featuring lessons, exercises, Scriptures passages, life application, leader helps and much more. However as I have not seen either the movie or acquired the entire kit, the purpose of this review is only to highlight the study guide.
The Son of God Study book in itself provided good ideas on how to start a small in home group complete with resources, Prayer and Praise report, calendar and even a roster. Sessions* includes key verse, video lesson, Discovery Questions and even space for notes.
On the whole, a practical introduction to a deeper communication between God and yourself, and a good small group study as well as a good tool for homeschooling!
4 Stars.
About the Author:
Rick Warren is the founding pastor of Saddleback Church
in Lake Forest, California, a Christian community that he and his wife began in their home in 1980, with just one other family. Today Saddleback is one of the most prominent churches in America with more than 20,000 members attending four campuses each week, reaching out through some 200 ministries.
For additional trailer, sample of book and info visit LIFEWAY
(
HERE
)
Disclaimer:
I received a copy of this study book courtesy of LIFEWAY as part of this book promotion.
I am disclosing this in accordance with the FTC 16 CFR, Part 255 'Guides concerning the use of endorsements and testimonials in advertising. I was not asked to write a positive review and all opinions expressed are entirely my own.