Paperback:

384 pages
Publisher:

Harlequin MIRA; Original edition (April 30, 2013)
ISBN-13:

978-0778314394
SYNOPSIS:
Paris, 1923
The daughter of a scandalous mother, Delilah Drummond is already notorious, even among Paris society. But her latest scandal is big enough to make even her oft-married mother blanch. Delilah is exiled to Kenya and her favorite stepfather's savanna manor house until gossip subsides.
Fairlight is the crumbling, sun-bleached skeleton of a faded African dream, a world where dissolute expats are bolstered by gin and jazz records, cigarettes and safaris. As mistress of this wasted estate, Delilah falls into the decadent pleasures of society.
Against the frivolity of her peers, Ryder White stands in sharp contrast. As foreign to Delilah as Africa, Ryder becomes her guide to the complex beauty of this unknown world. Giraffes, buffalo, lions and elephants roam the shores of Lake Wanyama amid swirls of red dust. Here, life is lush and teeming—yet fleeting and often cheap.
Amidst the wonders—and dangers—of Africa, Delilah awakes to a land out of all proportion: extremes of heat, darkness, beauty and joy that cut to her very heart. Only when this sacred place is profaned by bloodshed does Delilah discover what is truly worth fighting for—and what she can no longer live without.
My thoughts:
From the moment I read The Lion by Joseph Kessel, Africa became a part of me. It helped I imagine that my father also lived and worked in Africa for 23 years. The stories trickling along the years through scant post fueled my imagination and as a teen, I found myself walking the Savannah as one would stroll around a park.
I might have overlooked Deanna Raybourn's work if not for the cover of her novel piqued my interest as I secured
yet another stack of novels at the library.
Somewhat evocative of works such as
Out of Africa
by Isak Dinesen (nom de plume for
Karen Blixen
) and
The Flame Trees of Thika
by
Elspeth Huxley
, this fictional account of a spirited if dissolute young Creole, step daughter of a wealthy Englishman was a delightful surprise.
Deanna Raybourn
pens the zesty tale of a worldly young woman who cares little of what people will think of the next peccadillo in a long chain. Raybourn's protagonist is passionate in her loves, fierce in her loyalties and shows remarkable fortitude for a woman in the 1920's, the more so as she is steeped in a deeply masculine world, where few of her gender left a footprint.
Exiled to Fairlight, Kenya, Delilah is accompanied by her cousin Dodo and finds her stepfather's home in disrepair, its manager disreputable and her neighbours a colourful motley of disheveled whites, proud Masai and Kikuyu farmers.
Amongst all of these one lone man stands out under the scorching sun of Africa, a safari hunter named Ryder. Often caustic and remote, the man might sport a set of gold rings in his ears but is an honourable man i
f a trifle arrogant, who opens Delilah's eyes to the real Africa...
...The smell of the earth after the short rains was intoxicating. Bushes were thick with green leaves and gladioli and wild orchids burst from ripe buds. Everything seemed heightened, the colours brighter, the sounds sharper. The scent of Africa hung in my nose and mouth, the tang of the freshly saturated earth, the green smell of new grass, wood smoke and dung and that peculiar smell of Africa itself, unlike any other.
...From the Masai, to the Samburu and the Kikuyu, form other, smaller tribes. They stood, shoulder to shoulder, some of them enemies from the womb, and yet there they were, stamping their rhythms into the soil of their common mother. They were dressed for celebration, wearing their finest skins or kanjas, decked in beads and bracelets, copper wires and necklaces. They lifted up their voice together, a mixture of tribal tongues and Swahili and English, a new Babel, but with one meaning...They chanted of life which is short as a spear of summer grass, or long as the heart of the Rift itself, and of the silent land that waits beyond. They chanted of Africa.
(excerpts of A Spear of Summer Grass)
A vibrant story of a deeply mysterious land, of the woman who will leave her ghosts behind and finds a purpose in discovering its riches and the people who came to befriend her.
When it comes to entertainment, Deanna Raybourn might well rank amongst the best as she will make you laugh and cry in this slightly outrageous but powerful rendering of people who reach out to one another as they build a future for themselves in this harsh but unforgettable land!
Note: Due to adult thematic and graphic contents, suitable to adults only.
Song of Myself from Leaves of Grass by Walt Whitman
5 Stars!
Meet the Author: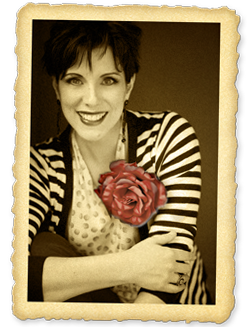 A sixth-generation native Texan, New York Times bestselling author Deanna Raybourn grew up in San Antonio, where she met her college sweetheart. She married him on her graduation day and went on to teach high school English and history. During summer vacation at the age of twenty-three, she wrote her first novel. After three years as a teacher, Deanna left education to have a baby and pursue writing full-time. Fourteen years and many, many rejections after her first novel, she signed two three-book deals with MIRA Books.
Visit her website (HERE) for additional information.
Note to readers: This was a library loan and reflects only my opinion. Additionally, the version I read was a CENTER POINT large print (see cover below). I chose to review the original format due to author's comments regarding its enticing cover!
Hardcover:

478 pages

Publisher:

Center Point; Lrg edition (August 1, 2013)

ISBN-13:

978-1611738506
Note to myself: Look for other works by this author!