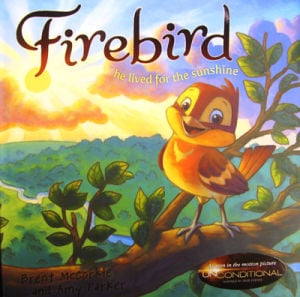 Age Range:

4 - 8 years

Hardcover:

32 pages

Publisher:

B&H Books (October 1, 2012)

ISBN-13:

978-1433679179

Also available in KINDLE format
Review dedicated to EMMA and ELLA!
SYNOPSIS:
What if God's love were like the sun, constant and unchanging? What if one day you realized nothing could take that away?


Firebird is a bright orange baby oriole who just loves the sunshine. But whenever a storm blows in, he frets and asks Mama why God allows the rain to take the sun away. When Firebird is finally old enough, his mother gently instructs him to fly up through the thunder and lightning to see what's on the other side.


It's a rough flight, and just when he's about to give up, Firebird rises above the storm to discover the sun shining where it always had been.


God never lets the storm take the sun away. With that truth in his heart, Firebird continues to bask in the sunshine, but just as important, he learns to rejoice in the rain.


Firebird is a children's book that parallels the life of Samantha Crawford, a storybook artist in the inspiring new film Unconditional (scheduled for a theatrical launch in fall 2012) who has lost sight of God's love.
My thoughts:
As soon as I saw this title I thought of two very special little girls named Emma and Ella!
Beautifully illustrated FIREBIRD is the story of a little Oriole who must learn one very important lesson!
He lived for the sunshine but when the storms came, he discovers the secret to face them with a smile!
"No storm can take the sun away. The sun is always shining. You just have to take a walk on the clouds."
(quote from the movie Unconditional)
Stunning in its presentation and its loving message, this book will be treasured by many little ones and appreciated by adults. Just the right format to read at bedtime, a nice way to connect with loved ones and sharing

Firebird

's new found discovery!
Written by authors Brent McCorkle and Amy Parker, Illustrations by Disney artists Rob Corley and Chuck Vollmer and inspired by true events as related in the movie UNCONDITIONAL, this inspirational story reminds us that we are never alone and to love, His greatest commandment!
5 Stars!!
Meet the Authors:
Brent McCorkle
wrote and directed the film
Unconditional
. His previous movie,
The Rift
, is a metaphoric story about adoption and won the Doorpost Film Project in 2009. Brent and his wife have five children
.
See website (HERE)
Amy Parker
has written more than twenty books for children, teens, and adults including
My Christmas List
, the best-selling
A Night Night Prayer
, and two Christian Retailing's Best award winners. Amy and her husband have two children.
See her website (HERE)
Disclaimer:
I received a copy of this book from LIFEWAY
as part of it's promotion.
I am disclosing this in accordance with the FTC 16 CFR, Part 255 'Guides concerning the use of endorsements and testimonials in advertising. I was not asked to write a positive review and all opinions expressed are entirely my own.