I remember coming home in tears when I was 8 years old because our Teacher had assigned us knitting 10 centimeters on a little blue hat! My Mum was in hospital and I just knew I could never do that! My Dad said no worries, he would help.
To my surprise he picked up the needles and started showing me how to pick up stitches (yes, by then I had already dropped a few) and then proceeded to knit a couple of lines whilst telling me his 3 older sisters had taught him.
An hour later and emotionally exhausted, I went to bed still trying to knit! In the wee morning however, it appeared the "Knitting Faerie" had visited because my 10 centimeters were all done!
I do not remember much of that morning in class but I do not know I did not ended up with a negative grade in knitting and I have learned to love to knit.

To this date I still credit my Dad with my knitting skills. I have come some way to be sure and I love knitting for tiny Angels that might not otherwise have something to themselves!
This is my little Snow Girl hat:
This hat reminds me of a Lion's mane. I made the booties to match.
This Preemie blanket was a tad of a challenge but I love the result: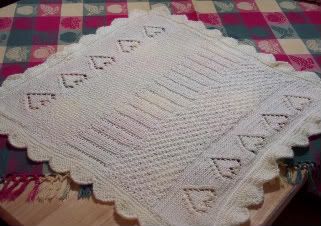 Spring will soon be here and with it, bluebells! I love their colour and I would knit in that shade always if I could!