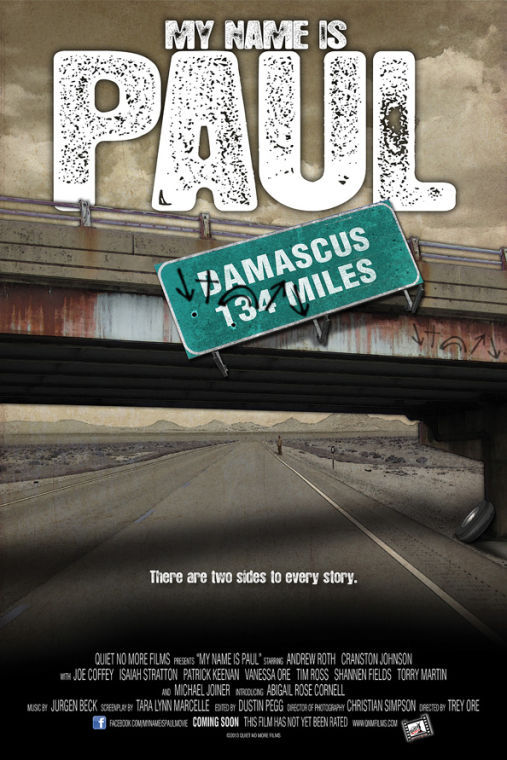 Studio: Word Entertainment
DVD Release Date: April 8, 2014
Run Time: 80 minutes
SYNOPSIS:
My Name is Paul
takes place in an apocalyptic dark future where Paul is hate-filled and intent on finding and destroying Peter, a Christian and the enemy of his leader. In an accident he is blinded and Ananias, who follows "The Way," prays for him. His sight returns taking him off his hate-filled course and he learns to live and love "The Way." Now he has to find Peter but his former leader and the government against "The Way" conspires to use him to get to and destroy Peter and the movement.
(Source Amazon)
About the Movie:
"

My Name is Paul

" stars Michael Joiner of "The Grace Card" and Shannen Fields of "Facing the Giants" and has been awarded the Dove "Family-Approved" Seal for ages 12+.
"If God can use a guy like Paul, who called himself the Chief of Sinners, what can He do with a guy like me or the person that watches this film," said the film's director Trey Ore.
"Paul is one of the most referenced people in the Bible, yet many don't know how ruthless this man truly was. I now have a better understanding of what grace is all about. So, if we can help even one person understand that we are never too far for God to reach us, this film was worth making."
Ore continued, "After our first private screening of 'My Name is Paul' I was told how this movie spoke to a Vietnam veteran that had been haunted for the last 40 years by his past difficult missions and decisions. When this man saw how ruthless Paul was and that God still had a purpose for him, it gave him hope. He saw that God's grace could cover even his transgressions."
About Word Entertainment:
A leader in the music industry for over 60 years, Word Entertainment, a Warner/Curb company, is a unique, comprehensive entertainment company comprised of multi-faceted artist service departments including publishing, merchandising, booking and online initiatives
and is home to 25 Entertainment, Word Distribution (representing Curb Records and Big Idea/VeggieTales among others), Word Print/Church Resources, Word Films, Word Music Publishing and Word Label Group's Word Records, Word Worship and Fervent Records.
My Thoughts:
Saul of Tarsus is perhaps best known to Christians as Paul the Apostle and the movie is an analogy of the man known for his hate and persecutions of Christians.
Science fiction and apocalyptic prophecies are not my cup of tea. So in tune is my family, each groaned when I first mentioned the movie knowing I detest the genre.
But as they say, never judge a book (movie) by its cover...
In his younger days, Saul was involved in persecuting Jewish followers of Jesus because he believed they were heretics (Acts 22:4-5).
Saul was traveling to the city of Damascus when he saw a bright light and heard Jesus' voice saying "Saul, Saul, why do you persecute me?" He fell from his horse, blinded. Days later, after a visit from the Christian disciple Ananias, he recovered his eyesight and began to preach Jesus' gospel. (Acts 9, 22 and 26).
My Name Is Paul
features a movie adaptation surprisingly closer to the original story than I anticipated.
I believe the director did his utmost to follow the biblical story and even used the names as read in the Bible. The actors however are unfortunately lagging behind his efforts at the detriment of the overhaul quality of the movie.
Some violence is to be noted, including use of weapons and therefore suggests an audience 12 years and older, best for youth groups and church gatherings according to my family (I have not changed my mind about the genre Folks!)
That said, the movie will appeal to those fond of a future connotative with the grim outlook of post apocalypse and is well worth the message: Once converted, Paul committed himself to his new found beliefs whatever the outcome.
3 Stars!
Disclaimer:
I received a copy of each DVD courtesy of EDIFY MEDIA Inc. as part of the movie's promotion.
I am disclosing this in accordance with the FTC 16 CFR, Part 255 'Guides concerning the use of endorsements and testimonials in advertising. I was not asked to write a positive review and all opinions expressed are entirely my own.