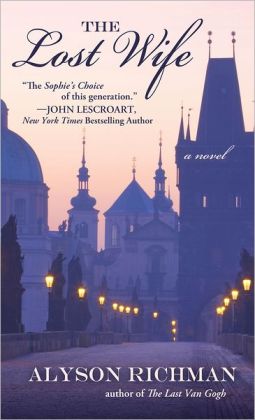 Publisher:

Berkley Trade; 1 Original edition (September 6, 2011)

ISBN-13:

978-0425244135
SYNOPSIS:
A rapturous new novel of first love in a time of war-from the celebrated author of The Last Van Gogh.
In pre-war Prague, the dreams of two young lovers are shattered when they are separated by the Nazi invasion. Then, decades later, thousands of miles away in New York, there's an inescapable glance of recognition between two strangers. Providence is giving Lenka and Josef one more chance.
From the glamorous ease of life in Prague before the Occupation, to the horrors of Nazi Europe, The Lost Wife explores the power of first love, the resilience of the human spirit- and the strength of memory.

Here are my thoughts:
A wondrous love story from an impressive author: you will never forget this one!
The Lost Wife by Alyson Richman is everything the synopsis promised and more beside!
The allure of the cover and its almost innocuous title (what is once lost can be found), helped me to believe that out of the ashes, some good came...at least for some.
Hope...The essence of life!


How else can you explain 6 millions souls erased from our world?!
What makes Alyson's story different from others is that in spite of the horrific circumstances shadowing her narration the daily account of life for both Lenka and her lost love thousands of miles away throughout the ensuing decades is none the less a story of hope.
From its very beginning the novel leads us to believe both young lovers will be reunited after all and it is that startling notion that makes you turn page after page.
And like a kaleidoscope Prague is painted in all its colours despite the enemy's occupation.
An accomplished artist, Lenka conveys in her descriptions elemental emotions: love, regret, fear, hunger, angst and so much more.
Formatted in a collection of reminiscences by Joseph and Lenka, each chapter allows readers to witness their forced separation and the resulting years.
Alyson Richman is to say the least, a gifted storyteller and you will wish to add this title to your list for its rich ending!
In the 'words' of the now 85 year old Joseph:
"There are two sensations of skin you will always remember in your lifetime: the first time you fall in love - and that person holds your hand - and the first time your child grasps your finger. In each of those times, you are sealed to the other for eternity."
About the Author:
Alyson Richman is the author of: The Mask Carver's Son, The Rhythm of Memory (formerly published as Swedish Tango), The Last Van Gogh and The Lost Wife. Her books have received both national and international critical acclaim and have been translated into fifteen languages.
The Last Van Gogh was nominated as a Book Sense Notable Pick in 2006 and The Lost Wife was nominated as one of the best books of 2012 by the Jewish Journal of Books. A graduate of Wellesley College and a former Thomas J. Watson Fellow, she currently lives with her husband and children in Long Island, New York.
Her fourth novel, The Lost Wife, was The 2012 Long Island Reads Selection and is now a national best seller with over 100,000 books in print.
Finally, her next novel 'The Garden Of Letters' will be published in 2014!
Visit her website (HERE).
Note to Readers: This was a library loan. No review was requested and as such, reflects only my opinion!