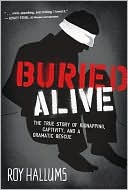 This is truly a fascinating book and I am glad I had the opportunity to review it!
In Buried Alive, Roy Hallums recounts his story simply with no dramatics, just his courage and strength. His faith in God and Country shines throughout the narration.
Suffering unbearable cruelty, humiliation and starvation, he takes each day one at a time.
Mr, Hallums was sealed in a concrete tomb for months sometime with other captives, sometime alone. He turns those long hours into "adventures": an incredible road trip across the US one day, a visit with family and friends another day.
These mind travels allow him to stay in control during his confinement.
To this day this is the only American rescued and I guarantee this to be a hard book to put down.
I gave it a 5 star!
I received a copy of this book from BookSneeze to write a review. No other compensation was given.