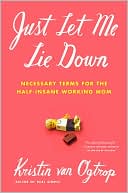 I received recently the opportunity to review "Just let me lie down, necessary terms for the half insane working Mom" written by Kirstin van Ogtrop.
I wondered if I could possibly relate to it as my children are now all grown up. I no longer have to combine work and family after all.
Two minutes in the book and I was hooked! And I laughed as I have not in a very long time
This is definitely so humorous and well written. Kirstin van Ogtrop indeed intended for all of us to have a good laugh and to remember priorities in life using her own experiences and insights. The result is an alphabetically list of hilarious terms, lists, complaints, questions and reflections on the insane life most mothers leads these days.
I noticed Ms. van Ogtrop is also the editor of "Real simple". Guess who will check the magazine next month?
All I can say is I guarantee each of us will see ourselves in her description of highs and lows in real life. You will not want to put it down and I suggest to consider this book the ideal gift for any mother, young or old! Perhaps a Mother's Day present?

I give it a 4 stars!
I received a copy of this book to write a review. No other compensation was given.