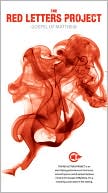 The Red Letters Project, Book of Matthew is the latest audio set I was given the opportunity to review and I must say it is definitively different.
It will certainly grab most teens and young adults interest and I will add it is a great item for anyone who listens to rock music.
Any parent or grandparent looking for a way to get their kids or grand kids into (or back into) the Word will appreciate this offering, and it would make a good gift for that age range.
I was surprised to notice the producers chose not to include the important chapters including the birth of Jesus, a mistake as far as I am concerned.
I also had a hard time to hear all the lyrics as the music overpowered it at times.
I probably would have appreciated it more a few years back when our daughter listened to (loud) rock and we constantly reminded her to reduce the volume!
I could only rate this one 2 stars!
Disclaimer: Tyndale House Publishers has provided me with a complimentary copy of this set.